Mr. J is Able to Lift Both Arms After Cold Laser Therapy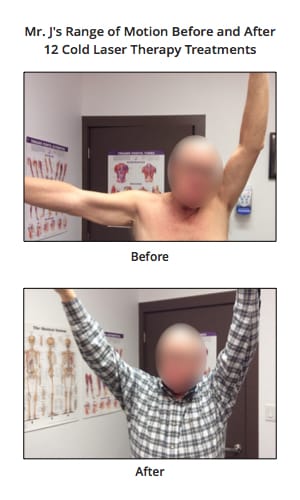 Mr. J is a fairly active gentleman in his mid 70's, with a history of some mild rotator cuff issues in the past. He recently had an unfortunate accident where he fell off a ladder and severely injured his shoulder. After having X-rays taken for his shoulder injury, it was discovered that he also had moderate to severe arthritis in his shoulder.
Two months after his shoulder injury, Mr. J was still struggling with moderate, constant pain in his shoulder. He also felt shooting pain down his arm several times a day, and had significantly reduced range of motion. He was unable to reach overhead or behind his back, and he had difficulty opening jars and putting on shirts and jackets. To add insult to injury, he was unable to get a good night's sleep because the pain would wake him up at 4am every morning.
Mr.J's Shoulder Injury Treatment Experience
At this point, he was getting very frustrated with his condition and decided to visit us here at Solaj to try Cold Laser Therapy. During his first assessment, I noticed that his shoulder had very restricted and painful range of motion. His rotator cuff muscles were weak, and the area was tender to touch. Not only did he injure the soft tissues in his shoulder, but he also aggravated a pre-existing issue in the area – the arthritis.
I recommended that Mr. J begin Cold Laser Therapy treatments immediately, starting with three treatment sessions per week for two weeks. After this two week period, I performed a re-evaluation of his condition. I decided to reduce the frequency of his treatment sessions due to his improvement. He continued with two treatments per week for two weeks. Following that, he went down to one treatment per week for another couple of weeks. The average length of each treatment was about 45 minutes.
After the first three treatments, Mr. J was already noticing improvements in his shoulder. The pain was less intense and he was able to sleep a bit better.
After 6 treatments, he expressed that his pain continued to reduce in intensity. He felt the shooting pain down his arm much less often, and his daily movements became easier. He also noticed that he was not being woken up by pain as often.
Mr. J completed his Cold Laser Therapy treatment plan with a total of 12 treatments, over a period of 6 weeks. At the end of his treatment plan, the range of motion in his shoulder improved dramatically and was almost back to normal. His muscle strength was restored, and he was able to sleep comfortably without any issues.