Solaj Laser & Wellness Clinic is serving South Surrey, White Rock, Cloverdale, Langley and Delta, British Columbia. We offer Cold Laser Therapy, also known as Low Intensity Laser Therapy (LILT), Low Level Laser Therapy (LLLT), or under the recently introduced medical designation of PhotoBioModulation Therapy (PBMT).
You can find us on King George Boulevard in South Surrey in the Alder Crossing shopping centre, close to the Choices Market. (Opening Hours & Map.)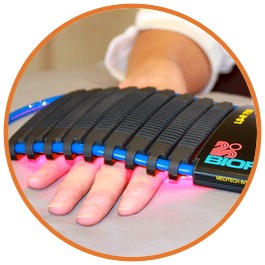 Cold Laser Therapy
This advanced, yet natural technology based treatment delivers specifically calibrated light to the interior cells of injured tissues. This triggers increased cellular energy (ATP) production, helping the body to kick-start and accelerate it's natural healing mechanisms. Read
more detail here.
Client Experiences
Our clients have experienced first hand how Cold Laser Therapy can heal even stubborn and very painful joint and soft-tissue conditions. Not only significant pain reduction, but also regaining normal range of motion and strength. Read some of the individual
client stories here.